Press Release: ITN Business and FINTECH Circle produce...
FINTECH Circle & ITN Business launch new co-production 'Fintech for Good'. Launching 30th November at FinTech Connect 2022, ExCeL London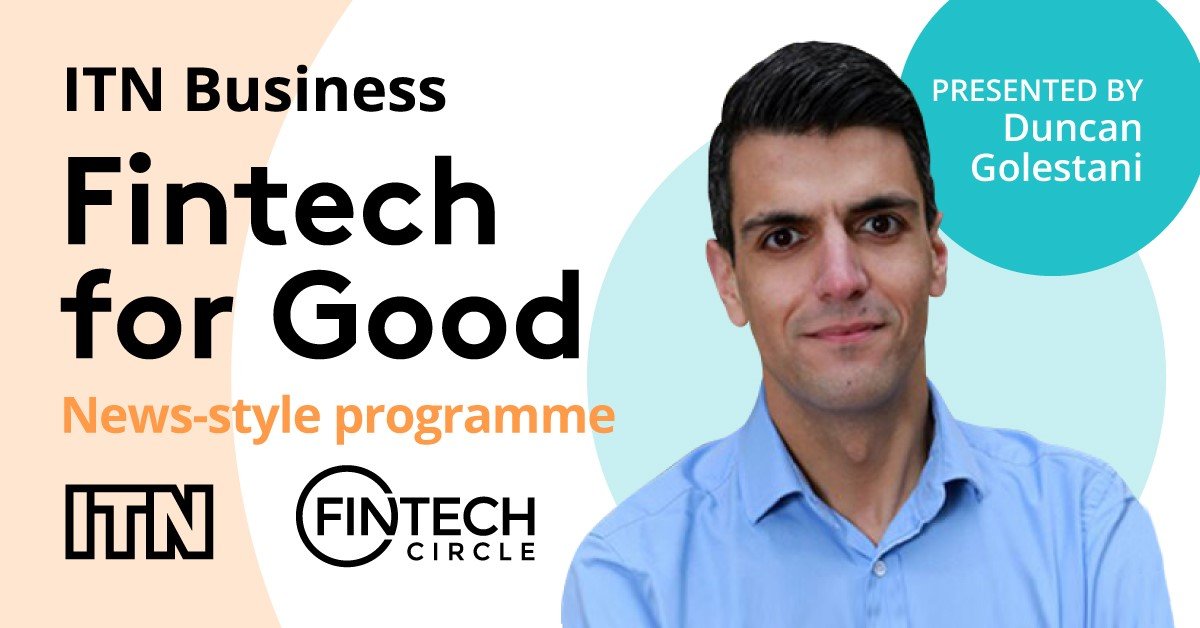 Date: 28 November 2022
Author: FINTECH Circle
With our everyday lives becoming more reliant on Financial Technology, FINTECH Circle and ITN Business have produced a news-style programme, 'Fintech for Good', to highlight the importance of fintech and the work the sector is doing to improve people's lives.
The programme highlights how fintech is empowering consumers by simplifying our financial lives whilst creating jobs, promoting climate responsibility with green fintech and helping to achieve greater financial inclusion. 
'Fintech for Good' also explores embedded finance and addresses the negative perceptions that people are no longer in control of their budgets. 
Anchored by presenter and journalist, Duncan Golestani, 'Fintech for Good' features interviews from the ITN London studios with industry thought leaders including Susanne Chishti, CEO of FINTECH Circle, discussing the pension  timebomb, and the opportunities and challenges for the future of FinTech. 
Following latest figures from banking body UK Finance that cash will account for only 6% of payments within the next ten years, we will also explore how this greater reliance on technology for payments will affect social mobility within our society.
Hosted on FINTECH Circle's website and YouTube channel, the programme also features reporter-led sponsored editorial profiles from the following organisations:
Susanne Chishti, CEO of FINTECH Circle said: "Fintech Innovation across global payments, insurance and decentralized finance – as shown in this film – expands our sense of the possible. So much of the future is already with us. We got inspired by these companies who pre-empt client demand, interact with customers in the way they want and view innovation as an opportunity for our society. A big thank you to ITN Business for being the best partner to tell these inspiring stories!"
Nina Harrison-Bell, Head of ITN Business, said: "It's been great to once again partner with FINTECH Circle, shining a light on the positive impact the sector has on our society. With fintech now a norm in most of our lives, it has been interesting to take a deeper dive into the industry and explore the financially inclusive world that is being created, to the benefit of people and the planet."
The programme will launch on 30th November 2022 at FinTech Connect, featuring news items, interviews and sponsored editorial profiles. 
FINTECH Circle will support the programme with an extensive campaign targeting their membership and global community and the programme will be available to view on www.fintechcircle.com from 30th November 2022.
For more information, contact Nina Harrison-Bell on Nina.Harrison-Bell@itn.co.uk.
---
About ITN Business
Building on its decades of experience in B2B and corporate communications, ITN Business works with organisations, businesses, and brands to create a deeper, more authentic connection with their people, customers, partners, investors, or the wider world. 
Industry News is our broadcast news-style programming and bespoke digital campaigns for sectors, charities, and industries, sharing stories of innovation, best practice and thought leadership, to connect with the audiences that matter to our clients, and to ensure longer-term impact. 
For more information visit: business.itn.co.uk
About FINTECH Circle
FINTECH Circle is a global platform of more than 200,000+ fintech entrepreneurs, investors, finance professionals, academic and government representatives, and solution providers. FINTECH Circle's bestselling book range has been published by Wiley in more than 10 languages including the titles: The FINTECH Book, The WealthTech Book, The InsurTech Book, The PayTech Book, The AI Book and The LegalTech Book and the latest publication titled "Fintech for Dummies". The company launched Europe's 1st Fintech Investor Network providing seed capital to the best fintech startups. FINTECH Circle also runs courses, webinars & innovation workshops for C-level executives and publishes fintech thought-leadership titles.
For more information visit: www.fintechcircle.com
You might also be interested in